COLLECORVINO PESCARA

– The town of Crow Hill, translated in English, is about thirty kilometers from a deep blue sea of a melancholy, Adriatic coast and a kiss away from the sleeping beauty alps, la bella addormentata. Although the town is a detour from any major tourist attraction, it has rich green fields, olive trees, wine vineyards and a dormant Christian community where the ambiguous villagers enjoy their afternoon siestas.
Besides the sheep, cows, oxen, farm horses, pigs and roosters that cock a doodle doo in the early morning, the local residents are often seen in the summer walking in the town piazza, celebrating at music fiestas, soccer games, weddings, taking their children to country fairs and getting their kicks by rallying behind their political candidates. The opium of the town is to be, furbo, Italian for a sly fox and to get away with sin.
Charitable functions are mainly left to the senior priest who is on a quest to raise funds to rebuild his damaged church. The Don was churchless for several months due to the earthquake that struck the Abruzzo region several years ago, cracking the front wall entrance of his church, destabilizing the foundation and destroying the second bell tower.
On April 25, 2012, Italy 's  "liberation day" and by chance, my mother's 78th birthday, the then Roman Catholic priest knocked on our door wanting to "bless our house." The preacher, who has now retired, was perhaps unprepared to face a rude response that bordered in his mind on blasphemy. How dare someone question his righteous moral framework?
Could it have been that my knowledge of the Italian language with its barbed-wire accent labels me a "straniero" – foreigner, and thus incomprehensible to the 6,000 strong community? Or could it be there are dire consequences for a priest if he gets involved in the personal affairs of a family feud.
The preacher shrugged and walked away. There was no indication from him that he was going to break the silence – the omertà. Why indeed should he act as a moral referee and care about the abuse my parents have suffered? My folks never walked across the red carpet, they never mingled with financial tycoons and never inherited any precious goods.
My father, who was an orphan by age seven, was robbed of his childhood by being forced to dig ditches for the Nazis during World War II and then later fled to Canada to escape famine. The American dream meant working in the great white north as a simple bricklayer in some of the coldest weather conditions. No big wonder why he decided to return to Italy with the hopes of spending his final years basking in warm sunny beach weather.  He, unfortunately, was robbed from a fruitful retirement. The nearby town Montesilvano, his birth place, is now where his corpse rests forever.
And while resting in his coffin, he was robbed a third time.
The family medical doctor, who neglected to properly care for my father, a crime in most civilized countries, and who never contributed one single penny to my father's medical and/or funeral expenses, suddenly jumped up at the altar in front of 500 people attending the funeral mass and without our consent, gave a non consented 'speech.'
"I want to say I did everything I could to save him and I want to thank all the doctors at the hospital who helped me," he said. The audience applauded.
Nonsense on stilts. A wicked fairy tale illusion exploiting the opportunity while the closest to my father grieved, mourned and remained silent. The language skills to refute his pathetic claim were not in my possession. And we were in a sacred church. What happened to God's Divine Laws?
While the cries of my father's agony for help and wanting to change doctors because of the medical abandonment continue to be like an ice-pick poking at my brain, comparable to something out of Dante's Inferno, or Les Misérables, the sordid details of my father's excruciating pain only draws yawns when raised to local police authorities and medical review examiners.
The family medical doctor, whose bed side manner was like watching Jack the Ripper, and whose name a year later appeared on the electoral ballot box, and then later won the election for a town councilor position, tried to rob my father in his dying days from the last thing he had — hope.
This is the result when ethics dissolves into moral relativism, heroic materialism and to be ignored when you are not "connected."  Truth has been trumped by title.
Just when you think it cannot get any worse, it does. And just as the moon revolves around the earth, the medical doctor/town councilor moves towards a new vengeance and his next prey – my mother.
On Friday January 28, 2011, while this mamma's boy or as Italians call it, mammone, was struggling with a back swing on a Bergamo squash court, my last game in the northern town where an employment opportunity as a language consultant for several multinational corporations was found; there was a "feeling" or "sixth sense" that my mom was not okay.
Repeated phone calls to my mother that night, who lives alone and is about 800 kilometers  due south of me, went unanswered. Something was definitely wrong. It was the urgent telephone call made by me to my cousin, and the town's middle ranked Carabinieri, who came to the rescue. He found my mother passed out and scrawled across the floor and suffering from a serious stroke.
Fortunately, by the grace of God and a competent medical team in the stroke unit ward at the Pescara hospital, my mother was saved. Paralyzed on her left side, the complete loss of her left arm and wheel chair bound, my mother entered the rounds of medical care.
Déjà vu. Although many years had gone by since the passing away of my father, more painful memories resurfaced as my mother soon entered the exact same medical clinic. The first question the head doctor at the medical clinic asked me was as to who would look after my mother on a daily basis when she returns home?
My loss for words prompted the head doctor to warn me that it was a criminal offence to abandon a disabled family member and threatened to call the Carabinieri. if I did not provide a family name of someone who would regularly aid and assist my mother. "Go ahead and call the Carabinieri," was my response. It would have been tempting to add "make my day" but Clint Eastwood lines do not translate well and cowboy diplomacy only works in the movies. The head doctor at the clinic shot another look at my mother's medical chart and the name of the ex-family doctor popped up when he suddenly realized who we were. The unwritten rule: medical doctors never rat on each other. Translation: the U.S. cavalry ain't gonna save us.
We immediately changed the family doctor after losing my father and officially severed a detrimental and life threatening relationship. What has not changed is the family bond. The ex-family medical doctor/ town councilor is married to my elder sister.
She married him when she was in he early twenties, bore two children: daughter now in her twenties and their son followed in his father's footsteps. He too, the son, now in his thirties, and who was once an altar boy, took the medical Hippocratic oath. My sister, along with her two children made a few superficial brief visits to my mother when she was in the hospital.  Her children made even fewer visits.
Once again, my sister and her adult children were gone. Verbal and written requests, including some from my Carabinieri cousin who tried to persuade my one and only sister to return to the fold, went into the abyss.
And so began the demand for help from my sister, the housewife with a high school diploma, with a cleaning servant, a gardener and four villas to find her heart and to help her mother living only 500 meters away. Immediately my sister, in her delusional and corrupted mind, complained about having been cheated from her inheritance.
My sister stands in the shadows and blames. She first blamed her husband from preventing her from seeing her mother. True. Then she blamed my mother for her absence. False. And then she blamed me. False.
And so began the useless legal battle that was doomed from the start to hit an iceberg. Lawyers in Italy are like the country's city clocks. Each one tells a different time. There were so many diverse interpretations of Italian law that it was anyone's guess as to how far and wide the discretion of a Judge can reach. My sister and her husband only hampered the matter with legal flip flops, blatant contradictions, false statements and the peddling of absurdity that Larry, Curly and Mo could have done a better job in arguing my case. An epidemic of hypocrisy.
The town's head ranking Carabinieri, the Maresciallo with the deep husky voice, after getting a brief visit from my brother-in-law, sided with my sister due to political pressure. The Maresciallo acted as judge and jury, violating police procedures and with a brief stroke of a pen, and in cold blood, he aided in getting our case dismissed and thrown into archives. He argued my mother's situation was not a legal question, but a moral problem.
Collusion? Political corruption and scandals are so rampant in Italy that parliamentary politicians in this country are now immune to criminal acts. It appears that the immunity extends to low ranking politicians, their "friends" and to family members. My Carabinieri cousin, who when faced with a choice of either serving and protecting the innocent — vis-a-vis my mother — or his career, choose his career. He too has disappeared from the scene. Resistance is futile.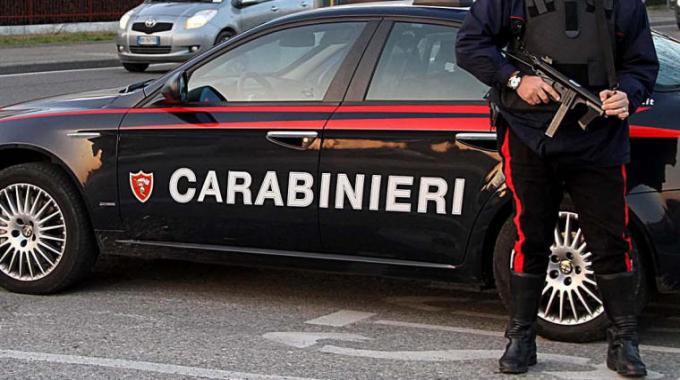 Filing a police claim with the Carabinieri to begin with, was never an easy task. Communication with uniformed officers is an exercise in insanity and hypocrisy. A mountain of evidence reaching the peak of la bella addormentata and arguments argued in fact were needed in order to prove that my sister abandoned her moral and legal duties and violated Italy 's penal code 591. Over 10 visits and countless hours were needed to several Carabinieri and police stations just to persuade them to file a report.
The final persuasion was numbers. Mathematical figures do not lie. The impromptu bills of my father's medical expenses and then unfortunate funeral expenses and now the new equation of paying for my mother's medical expenses including providing a revolving door of home care assistants and therapists continue to have its toll. Plus trains, planes and automobile expenses to commute every weekend to my mother's home also bleeds my bank account dry. Nearly all my pay cheque goes to aid and assist my mom. My sister, on the other hand, her financial contribution to her father and to her mother totals diddly squat – a big fat zero.
On All Saints Day weekend a few years ago, en route to visit my father's tomb, there was by chance the 30 second encounter with my sister. She was ironically taking out the trash when she was approached by yours truly. My car window was rolled down and never getting out of my car during the whole incident, she was asked in English:
"So are you going to help us or what?!
She stayed mute for a few seconds. Then she attempted to take the trash bin she was holding in her hand and smash it against my car.
"Shame on you!" came flying out of my mouth.
My sister then shouted obscenities back towards me, turned tail and ran into her house shouting: "Call the Maresciallo! Call the Maresciallo!".
"Coward!" was my response.
The consequence. Within an hour the town's Maresciallo was contacted. A two page police report was filed immediately and a sleuth of accusations made against me including allegedly preventing my sister from visiting her mother, terrorizing and stalking her family, offending my sister's honour by name calling with such English words as "coward, bastard, liar and using the 'f' word."
On Friday June 08, 2012 at 9:00 a.m., yours truly was dragged into court and after firing my useless lawyers, faced the solo threat of receiving €2,000 in financial penalties, not including court and legal costs and translation costs, plus a six month prison term.
Having sat in a hot stuffy room for over an hour where it is written in huge Italian letters — La legge è uguale per tutti — the law is equal for everybody — an aging Peace Judge stared down at me while a teary-eyed melodramatic sister sobbed and her husband with dark shady glasses hid in the back of the courtroom.
Serious thoughts raced across my mind. Would they have me digging ditches like my father did for the Nazis?  Then suddenly, the Peace Judge made me an offer one could not refuse. Say "scusi" to my narcissist sister and the whole thing will be over without any consequences. Admitting guilt on phony charges was not the ideal solution. The apologetic word was reluctantly forced out of my mouth and in my opinion, meaningless. My sister, her egomaniac husband – the medical doctor/town councilor — and their devious lawyer, on the other hand, were content and shuffled out of the courtroom. They returned to the status quo.
My story, however, is far from over and many questions remain. My mother's medical condition means she is wheelchair bound, she has to get use to losing the use of her left arm, and wearing diapers. In the small town where we live, the church is of no help. The new priest's promise to visit our home an give my mom holy communion on regular basis is like waiting for a solar eclipse. Who will help my mother nurse her broken heart? The salt has lost its saltiness.
May my father rest in peace.