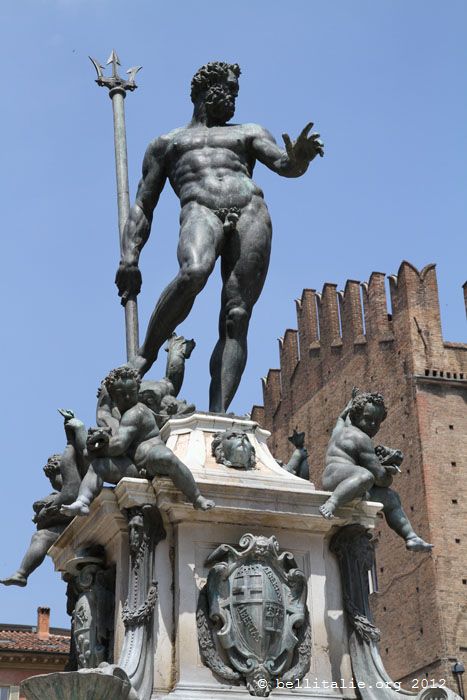 English Training: Facebook
Banned

Nude Italian Statue

The offending image: Facebook banned Elisa Barbari's photo of the Fountain of Neptune in Bologna, Italy for being sexually explicit.  

See video
English Training: Facebook
Banned

Nude Italian Statue

"Explicitly sexual?" That is what Facebook judged the upload from Elisa Barbari's upload from the photo of the majestic bronze statue of Neptune. The statue is of the Roman god of the sea and has towered atop the fountain in the center of the Piazza del Nuttuno square in Bologna, Italy since the 16th century.

The Neptune statue appeared to violate Facebook policy.

The social media site faced criticism after it banned an image showing the nude statue, saying it was "explicitly sexual."

Elisa Barbari, who posts about the history and culture of Bologna on her Facebook page, uploaded a photo of the nude sculpture in late December.

She was shocked to receive the message from Facebook saying it violated its advertising policy.

The Neptun statue, commissioned by the Papal State and created by sculpture Giambologna, is a symbol for the city.

After venting about the ban online, she received hundreds of messages from people around the world, which she said encouraged her "to continue this battle against Facebook's censorship."

Facebook has since apologized, saying it "incorrectly" banned the photo of the nude statue.

"Our team processes millions of advertising images each week, and in some instances we incorrectly prohibit ads. This image does not violate our ad policies. We apologize for the error and have let the advertiser know we are approving their ad," a spokesperson said in a statement to the Toronto Star newspaper.

But Barbari said she has not received a message from Facebook about the banned photo.

The only message she received was an apology for temporarily suspending her account, which she says did not happen.

"I wish there could be a happy ending. I'd like to be able to use my image of Neptune . . . for an advertisement without being censured. Because it's absurd to censor art," Barbari said.
English Training: Reading Comprehension
Who posted the photo on Facebook?
Why was the image banned?
 How long has the statue been in Bologna's Piazza?
Did Facebook apologize?
Answers to the questions below.
English Training: Vincent C. Torrieri – Creator of Customized English
A Canadian living in Europe, with a wide range of experience in journalism as a broadcaster and writer. Having worked in all the major media channels including TV, radio, print and websites, I have presented news stories, created TV documentaries, conducted exclusive interviews, written hard news for newspapers and also covered a variety of subjects including entertainment, sports and business.
(Founder e CEO di English Training) – Corsi inglese
Ho esperienze pluriennali nell'insegnamento della lingua inglese:
Corsi di inglese – formazione – Corsi aziendali – Corsi di Business English – Weekend crash courses, full immersion -Corsi d'inglese tecnico – Corsi legale
Lezioni one to one – Corsi personalizzati.
Corsi di conversazione ed attualità.
Preparazione presentazioni
Preparazione colloqui di lavoro in inglese – preparazione per il curriculum vitae
Skype lessons – maximize e-commerce
Preparazione esami Cambridge: PET, FCE, BEC, IELTS e Trinity( General English and Business English) con il 90 percent success rate.
http://www.cambridgeenglish.org/it/
http://www.trinitycollege.it/
ANSWERS
Who posted the photo on Facebook? Elisa Barbari
Why was the image banned? Explicitly sexual
 How long has the statue been in Bologna's Piazza? Since the 16th century
Did Facebook apologize? Yes, they did.