The Truth About Schettino After Mammoth Shipwreck Disaster
Click and listen to the Telephone call between Italian Coast Guard Gregorio de Falco and Ship's Captain Francesco Schettino. (With English Subtitles)
Location:  The island of Giglio, Italy.
Date: Friday January 13, 2012
 Result: 32 people dead.
Cause: Captain Francesco Schettino.
With 3,216 passengers and 1.013 crew members aboard, the cruise ship hit an underwater rock formation off the island's east coast just south of its port at 21:45 in a strong impact that opened a hole 70 meters wide on the left side of its hull.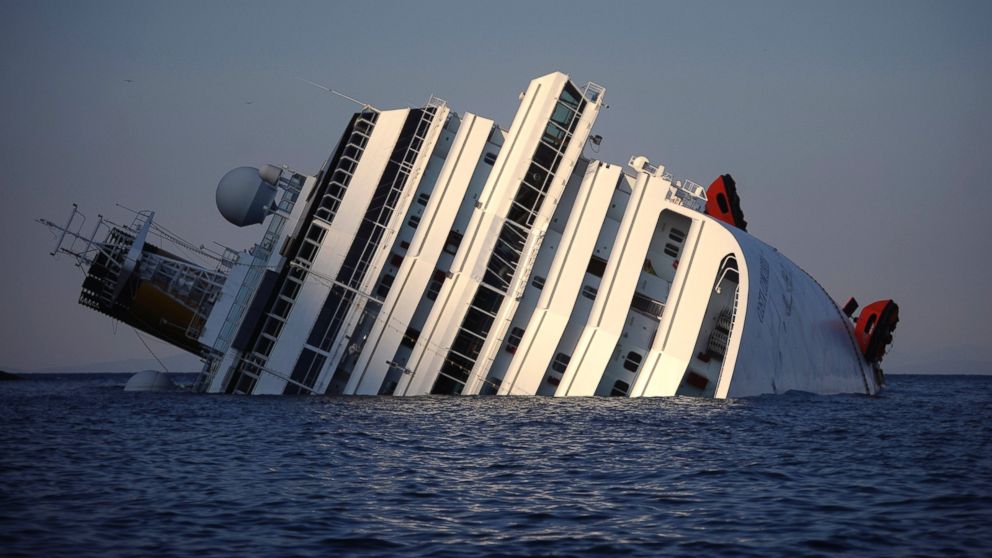 The ship's captain, Francesco Schettino, had decided to "navigate according to his sailor's instinct, closer to the island, trusting in his abilities," wrote judges in the subsequent trial sentence, in which he was given 16 years and one month in prison.  
But after five years, Schettino has yet to serve one day in prison.
Telephone conversation between Italian Coast Guard Gregorio de Falco and Captain Francesco Schettino.
CG: "Captain, speak up! Shield the microphone with your hand and speak louder, clear?"
FS: "At this moment the ship is tilted."
CG: "I understand. Listen, there are people who are coming down the ladder on the bow. Go back in the opposite direction, get back on the ship, and tell me how many people there are and what they have on board. Clear? Tell me if there are children, women and what kind of help they need. And you tell me the number of each of these categories. Is that clear? Look, Schettino, perhaps you have saved yourself from the sea but I will make you look very bad. I will make you pay for this. Dammit!"
FS: "Captain, please…"
CG: "There is no 'please' about it. Go back on board. Assure me you are going back on board!"
FS: "I am in the lifeboat, under the ship, I haven't gone anywhere, I'm here."
CG: "What are you doing?"
FS: "I am coordinating…"
CG: "What are you coordinating there? Get on board the ship and coordinate the rescue on board. Are you refusing?"
FS: "No, no I am not refusing."
CG: "Are you refusing to go on board? Tell me the reason why you are not going."
FS: "I am not going because there is another lifeboat that has stopped."
CG: "You get on board. This is an order. You need to continue the rescue. You called the evacuation, now I am in charge. You need to go on board the ship, is that clear?"
FS: "Captain."
 ↔
http://nypost.com/2012/01/17/complete-transcript-of-capt-schettino-and-italian-coast-guard-official/
The Disaster Made International News
Watch and listen to Schettino's interview in English. "I cannot feel responsible"
His defense. Excuse. "It was an accident…This case has been treated as a crime and I don't understand why?"
Love on the rocks
Dancer admits to love affair with Schettino 
A Moldovan dancer who was on the bridge of the Costa Concordia with Captain Francesco Schettino has admitted she was his lover. Giving evidence at his trial, Domnica Cemortan refused three times to say whether she was having an affair, before the judge threatened her with criminal charges.
Finally she said: "Yes, I had a relationship with him. Stop. Now, could we please move onto more important things."
The captain has acknowledged fault in the trial, but his defence team is arguing the ship sank in part because watertight doors did not function on the ship. 
English

Training:

Grammar / The Imperative

The imperative is a grammatical mood that forms commands or requests, including the giving of prohibition or permission, or any other kind of advice or exhortation. An example of a verb in the imperative mood is be in the English sentence "Go back to the ship!"  "Get Back On Board the Ship Schettino!"

We can use the imperative to give a direct order.
Get on board that ship!
Tell me what are you doing?!
Give me the details!
Speak up!
We can use the imperative to give instructions.
Go back to the ship!
Hard to starboard!
Hard to port!
We can use the imperative to make an invitation.
Come in and sit down. Make yourself at home.
Please start without me. I'll be there shortly.
Have a piece of this cake. It's delicious.
We can use the imperative on signs and notices.
Push.
Do not use.
Insert one dollar.
We can use the imperative to give friendly informal advice.
Speak to him. Tell him how you feel.
Have a quiet word with her about it.
Don't go. Stay at home and rest up. Get some sleep and recover.
We can make the imperative 'more polite' by adding 'do'.
Do be quiet.
Do come.
Do sit down.
English Grammar Exercise
Put the words in brackets into the gaps. Mind the positive or the negative forms.
What happened to Falco?
Anger as Costa Concordia 'hero' transferred to coastguard administration duties
Gregorio de Falco was praised for ordering stricken ship's captain, Francesco Schettino, to get back on board
He was the Italian hero to Francesco Schettino's villain: a coastguard official who, in the days after the Costa Concordia disaster, became a symbol of responsibility in nation that was horrified by the allegedly reckless behaviour of the cruise ship's captain. On Thursday Italians were yet again engaged in a collective frenzy over straight-talking Gregorio de Falco.The 50-year-old has said he is being transferred out of operational service at the Livorno coastguard and into administrative duties, prompting anger among those who remember his bracing words to Schettino on the night of the tragedy and despair over a country that they say does not know how to treat its heroes.